Release Date: 2009, Total Running Time: 27 minutes, Website: www.thenewmetropolis.com
---
The New Metropolis Episode 1: A Crack in the Pavement
America's "first" suburbs, those suburban communities built next to America's urban centers, were once the birthplace of the American Dream. Driven by a desire to escape the smokestacks of the central cities, and a housing shortage following World War II, thousands of suburban homes were rapidly constructed and middle class families flocked to fill them.
Sixty years later, many of these original suburbs are facing a crisis: a dwindling tax base, population and business loss, decaying infrastructure, increased racial tensions and white flight. Lacking polices to help reverse these trends, many towns are looking for strategies for revitalization.
A Crack In the Pavement unravels the national infrastructure and regional land use policy debate through the stories of two first suburban public officials from southern Ohio. Starting with a short history of Eisenhower era policies, the program chronicles some of the policy issues that prevent revitalization. The film then points towards possible solutions through balanced growth and regional cooperation strategies. Narrated by actor Peter Coyote, the film also includes commentary from Myron Orfield, Bruce Katz, Dr. Carla Chifos and Kim Gibson.
For more information about community screening opportunities and upcoming public television broadcasts, visit www.thenewmetropolis.com.
Purchase the DVD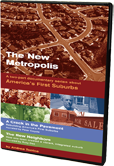 PBS viewers and individuals can order a copy today by mailing in the Online Order Form or purchasing through PayPal.
---
Stream The New Metropolis
Click the Rent button in the top right corner of the video above to rent the program for a 72-hour period through Vimeo.