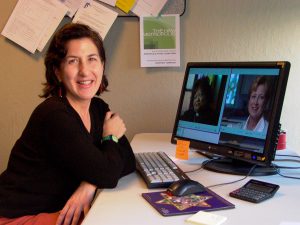 Andrea Torrice is an award-winning documentary and public television producer/writer whose work spans a range of contemporary issues.
Andrea Torrice Her most recent public television documentary, Trees in Trouble, explores the benefits and threats to America's urban forests.
Her other national public television productions include: The New Metropolis, a two-part series which explores the revitalization challenges and opportunities facing America's older first suburbs. She also oversaw the related civic engagement dialogues hosted by PBS affiliated stations and community organizations. Over 120 community screening events were held around the country. Rising Waters, which examines the global warming debate through the personal stories of Pacific Islanders. It was featured at the 2004 United Nation's Earth Summit, as well as broadcast in 110 countries and on National Geographic TV. She was the segment producer for the National PBS series Arab American Stories, which profiles a Jordanian family from Ohio. Some of her other award winning films include: Bad Chemistry, which discloses the hazards of low-level chemical exposures on human health; Large Dams, False Promises, which investigates the impacts of dam projects in Brazil and China; and Forsaken Cries: The Story of Rwanda, which explores the historical factors contributing to the 1994 genocide. Her most recent film, Art As Action, tells the story of women abstract expressionist painters through the story of the filmmakers' mother.
Her work has been supported by the Ford, Annie. E. Casey, Surdna, William Penn, Gund, The Ohio Humanities, The Tree Fund and other foundations, as well as by the Corporation for Public Broadcasting, and the Independent Television Service. She is also the recipient of a CPB Gold Award in Community Programming.
Torrice is a frequent guest speaker on the issues related to her films. Recently she was the featured speaker for Women in Media – Making a Difference for the Soroptomists of America – East Bay, Northern California Chapter. Currently she is the owner of Torrice Media which specializes in high impact visual storytelling. She has produced a range of award-winning video programs and articles for museums, universities, educational institutions, municipal governments and nonprofit organizations.
Her career started almost 20 years ago at San Francisco's PBS affiliate, KQED-TV, as a producer for the station's Current and Cultural Affairs departments. She currently works in Cincinnati, Ohio, where she lives with her husband and son.
To find out more about Torrice Media media services or speaking engagements visit our contact page.
Client list available upon request.