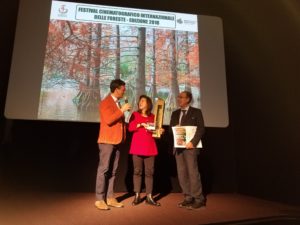 Trees in Trouble
won first prize at the First International Film Festival of the Urban Forest held in Mantova Italy. Andrea Torrice and Dave Gamstetter attended the festival and awards ceremony.
The First World Forum on Urban Forestry brought together over 1000 people from around the world to share information about the growing importance trees and green infrastructure play in communities helping to improve air quality, and mitigate climate change.
It became very clear that the issue of invasives is a growing global problem. The Emerald Ash Borer has been found in Austria and England. Other invasive pests, bacterium and fungi are attacking native forests in Brazil and China. A fungus from the United States has recently been discovered in the Olive trees in southern Italy. The need for public education and a coordinated global effort to mitigate these pests is vital to the planet.
For more information about the conference go to: www.wfuf2018.com