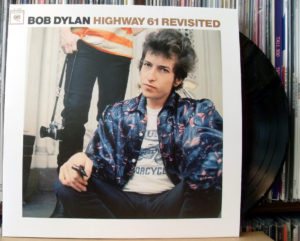 The Something Is Happening Here (SIHH) Project is a multi-disciplinary artistic response to Bob Dylan's historic album Highway 61 Revisited. Musicians, filmmakers, poets, and artists of diverse cultural backgrounds will craft responses to the album.
SIHH is part of The Response Project (TRP), an ongoing artistic initiative, led by nationally renown pianist Brianna Matzke. TRP asks artists to create a new work in response to a preexisting artwork or idea.
Bob Dylan's 1965 album Highway 61 Revisited is the selected response point for two reasons. First, it is an embodiment of fear, uncertainty, and social division felt by Americans both in the 1960s and today. Secondly, Dylan captures the 1960s not through incisive political commentary, but through intimate snapshots of a wide array of characters – American people, vividly portrayed: Miss Lonely, the medicine man, Mister Jones, Queen Jane, poets, philosophers, kings and everybody else we meet as we travel along Highway 61. These characters enable listeners to mirror the work and to see themselves and their communities in a new way. Torrice is producing a short film in response to the Desolation Row song.
The artistic works will be presented to audiences at the Micromini Cinema and other venues in the SW Ohio region in fall 2018. Dates and details to follow.