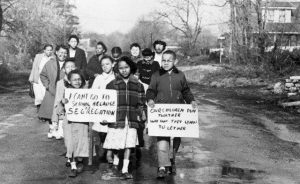 Playwright and former Hillsboro resident, Susan Banyas, interviewed Judge Nathaniel Jones, former General Counsel to the NAACP, and some of the Marching Mothers and the children of Hillsboro, Ohio. The three camera production took place at the National Underground Railroad Freedom Center Museum in the Harriet Tubman Theater.
With funding from the Ohio Humanities, Torrice Media is producing a documentary short for the Highland County Historical Society and Museum. The documentary will capture the dramatic story of the struggle for school desegregation in Hillsboro, Ohio, which was the site of the first northern challenge of Brown v. Board of Education, the Supreme Court decision which declared school segregation illegal.
"This is a story of determination and hope, that needs to be told. I am thrilled to be part of this project, which has national significance," says filmmaker Torrice.
The documentary will be completed in May 2017. In addition to being part of the Museum's upcoming exhibition, it is hoped that the the documentary will travel across the state for public screenings.
Please follow and like us: