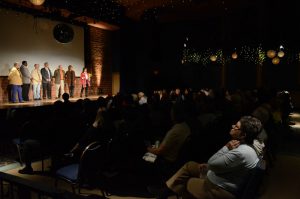 On November 5th, there was a "Sneak Preview" of the new Trees in Trouble documentary. The Sneak Preview included a film screening and fundraising event to support community reforestation and education. A large audience turned out to watch the film and meet the stars.
Producer Andrea Torrice, along with the key stars in the film, including national and local scientists, Cincinnati Zoo director Thane Maynard and Councilmember Wendell Young, appeared at the event.
Go to the Trees in Trouble website for more information on the documentary.