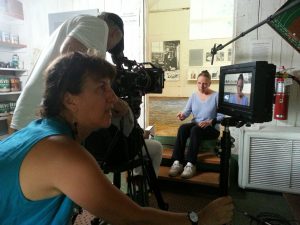 Art as Action
officially premiered at the
Cincinnati World Cinema
on February 22. The premiere was part of Cincinnati World Cinema's Oscar Nominated Short Documentaries Festival at the Carnegie Theater in Covington, KY. Over 350 people attended the packed to capacity auditorium and the film was followed by a lively discussion about women artists and the challenges the face today. 
Art As Action
is a short documentary film about the women of Abstract Expressionism.
Art As Action was also shown at the Linwood, New Jersey Public Library as a part of a public presentation about abstract expressionist women artists and their role in the art movement. It is also being used as a media tool in the Art History department at the University of Cincinnati.
To find out how you can rent or purchase the film, contact us at torricemedia@gmail.com.